Barnes & Noble moving, our new and current listings, and fun things to do this week. Did you ever frequent Barnes & Noble or are familiar with the one previously on Rittenhouse Square? I'd love to discuss. Please send me an email: [email protected] This edition of Around the Block was originally published on Friday, 9/9/22.
Relevant Commentary, all information Philly (real estate and otherwise), Open Houses, Listings, Happenings, and More — by Jeff "City" Block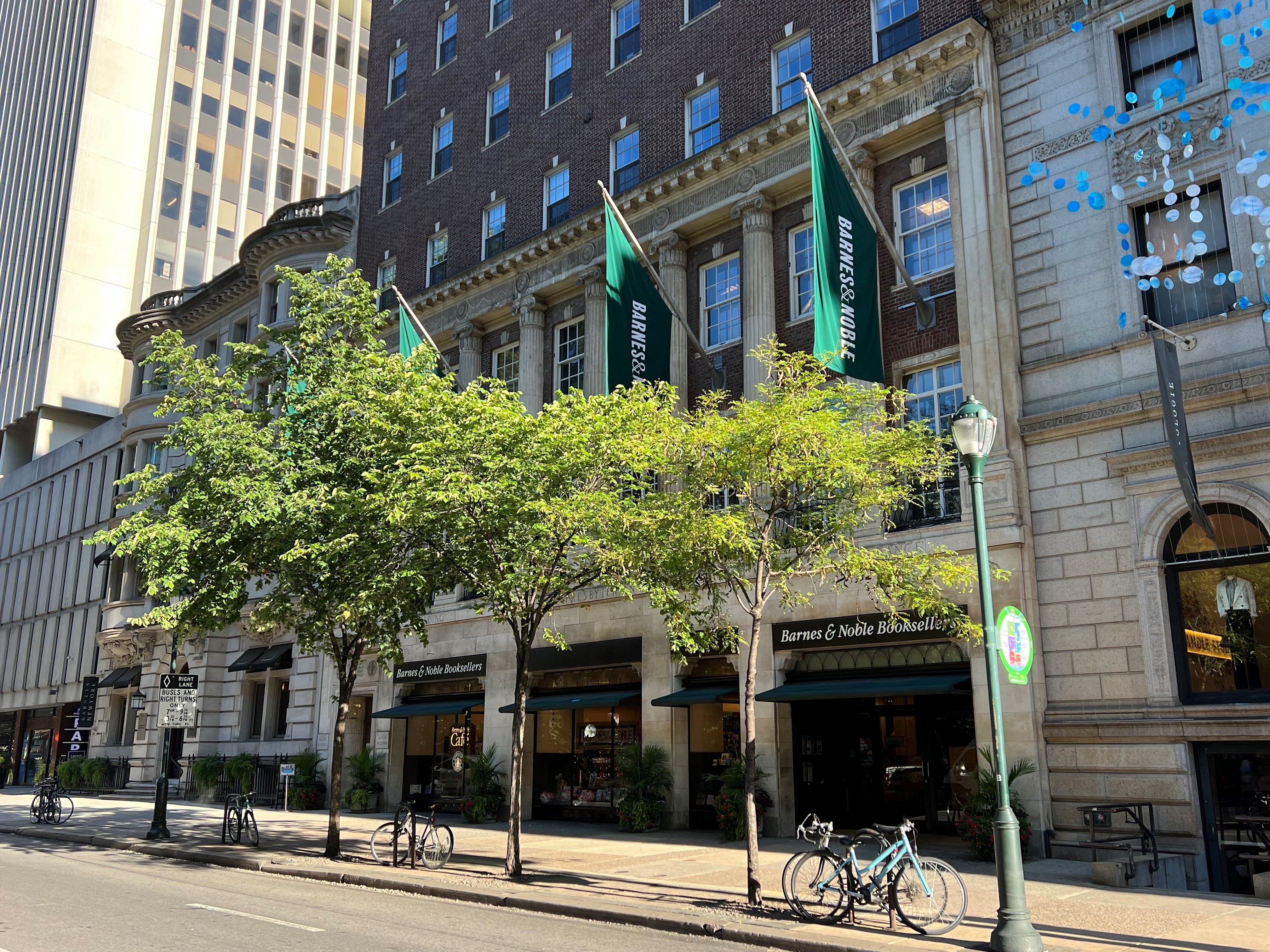 The Barnes & Noble on Rittenhouse Square is moving to the 1700 block of Chestnut. While only a three-block move, this is the end of an era, though for me and perhaps many other Philadelphians, that era ended years ago. I lived on Rittenhouse Square from 1990 to the mid-aughts, and Barnes & Noble was a significant part of my life. Back in the day, B&N was a vibrant community hub. I would sojourn at Starbucks on the 2nd floor to socialize and read books. Study. Work. Hang out. I would actually buy books that were made from paper. It was important both as a place to hang out and to actually buy stuff.
Ironically, I read more books now than ever, but only from my Kindle. I read the Inquirer and other news and sports on my iPad. Many have followed this same path. Even well before the pandemic, Barnes & Noble seemed to be slowing down. Sure, I aged (considerably), got married, had kids, and moved to other neighborhoods in the City. But my office remained on the Square through 2018, and just a few blocks away since then. My parents live on the Square. I have friends who live on the Square. Yet for some time, the bookstore was no longer the hub it once was. Then came the pandemic, and well, that certainly didn't help bring back the bookstore experience, that is for sure.
When I was a kid, I spent a ton of time at FLOP (Free Library of Philadelphia) on Logan Square reading and doing research. Ahh, the microfiche. Those were the days. Imagine being able to read a newspaper in so-so focus, from a certain month on a clunky machine. The library wasn't social at all back then. You couldn't really talk. That was the idea. There were bookstores back then. They were places where you would buy books. That was pretty much it. So, when Barnes & Noble came along (and of course Borders, remember that), it was an awakening for a city (and world) without quite as many distractions. Then no internet turned into a limited internet, then a burgeoning internet, and then a crazy all-in internet. Digital sources started to dominate. Meanwhile, coffee shops continued to proliferate, and the bookstore as a social hub began to wane.
While so many who would have hung out at B&N now hang at the coffee shops, if you want a real paper book (and knowledgeable advice on books), you can still go to one of Philly's awesome neighborhood bookstores, like Big Blue Marble in Mt Airy and Bindlestiff Books in University City (my two most recent neighborhoods).
Barnes & Noble on Rittenhouse Square was an important part of the Center City Philly scene for decades. I am really glad it is moving instead of closing and believe this is yet another positive sign of the vitality and future of Center City Philadelphia. I look forward to checking out the Chestnut Street store. Maybe buy a coffee in their new café and read my Kindle. Or will I read a "real" book for old times' sake? We shall see.
6 (out of 19) UNITS REMAIN!!
The premier adaptive reuse development in the northwest section of the City, 7111 Germantown is easily accessible to so many restaurants, cafes, retail, parks, shopping, library, and more. 5-minute drive to the Wissahickon Valley and miles of wooded trails. 5-minute walk to two SEPTA regional rail lines. And, of course, a quick ride to Chestnut Hill, Center City, Manayunk, and the Main Line. Extremely low taxes, condo fees, and utility costs in this energy efficient project. Superior construction includes extra insulation and advanced sound attenuation methods. Some units have outdoor space. This is an elevator building and is pet friendly.
7111 is comprised of very spacious 1, 2, and 3-bedroom residences, each of which has different layouts and features, including high ceilings, original hardwood floors, and exposed stone and beams. All residences have big windows, open floor plans, excellent space and light, spectacular finishes, ample closets, and storage. Every unit comes with an assigned covered parking spot (with EV charging available). Full 10-YEAR TAX ABATEMENT. Photos shown may not be listed unit. Floorplans available for all units.
| | |
| --- | --- |
| | Head to the National Liberty Museum to see a brand-new exhibition all about how we understand truth. This immersive and interactive exhibition will include hands-on activities and two installations from Philly-based artists that focus on what truth means in modern times. |
Last Thursday was the start of the annual Fringe Festival that features over 1,000 provocative theatrical performances in venues across Philly. Some of this year's performances include:

Geoff Sobelle's FOOD at FringeArts which is somewhat of a dinner party (September 8-18th)
A poetry reading where clothing is optional (September 8-11th)
A cabaret production at Laurel Hill Cemetery where three singers perform among the headstones and audience members watch and enjoy free cocktails (September 9-17th)
Center City District Restaurant Week


This Monday is the return of Center City District Restaurant Week with special dining deals from over 60 restaurants. Offers include fixed three-course dinner menus for $40 per person and select lunches for $25. Check out the list of participating restaurants here. Also, a new feature for 2022 is the Dinner and a Show promotion where you can get discounted tickets to some of Philly's most famous arts and culture institutions.
4601 Springfield Avenue

BRAND NEW LISTING

6 Bed | 2.5 Bath

$499,000 

Mount Airy

New Construction

3 Bed | 2.5 Bath

$635,000 

349 S 47th Street #A310

COMING SOON

5038 Spruce Street

NEW PRICE

4 Bed | 4.5 Bath

$650,000

3 Bed | 1.5 Bath

$250,000 
Experienced real estate agent?
Would you consider joining one of the most respected real estate teams in Philadelphia?

The City Block Team is looking for an experienced agent who wants to provide Expert Real Estate Representation.

CBT is committed to helping you build your business and offers excellent coaching and mentoring; solid systems & admin support; leads (quality over quantity); superb team camaraderie; and outstanding team name recognition and regard.
As always, please know that I'm humbled by and appreciative of your introductions and referrals. If you have a friend, colleague, or family member that is in need of Expert Real Estate Representation, please have them contact me.

Be assured, I will do my best to exceed their expectations! Thanks for taking the time to read this issue of Around the Block.
Some imagery in this e-newsletter was sourced via UWISHUNU, battleshipnj, libertymuseum.org, and Canva.

marketingcenter-greaterphiladelphia-philadelphia