Note: This edition of Around the Block was originally published on 9/13/19. Open Houses and some listed events have passed.

Volume 18: Issue 39                                                                                                                                                                9/13/19                                                                                                                                              
Your Weekly Dose of Real Estate News, Open Houses, Listings and More — by Jeff "City" Block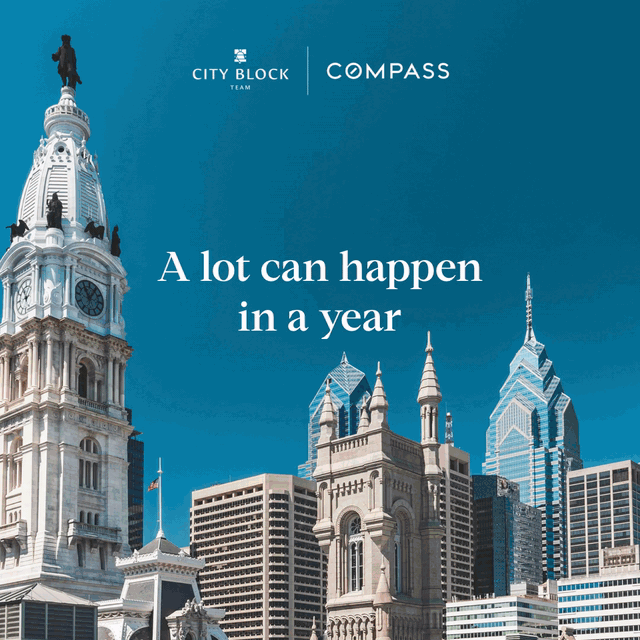 This week, the City Block Team celebrates one year at Compass.
I think back to last summer when Compass Founder and CEO Robert Reffkin contacted me about joining. My first thought was, "I have been recruited for the past 17 years and no interest." Then I listened. And I'm so glad that I did. I heard something that was new, different, amazing, and visionary. And not long after, the City Block Team was onboarding with Compass. This was the best business decision I made since leaving the law to become a real estate professional in 2001.
Let me quickly focus on Compass's eight entrepreneurial principles to explain how I feel about my and CBT's first year with Compass:
#1 
Dream big. CBT had already been providing expert real estate representation to Philly clients for years. I was very comfortable at my long-time broker and was not looking to move. But I understood right away that the Compass support structure and technology would help me and the team further enhance our overall client service and client representation. And in a big way.
#2
Move fast. Okay, so I was at the same company for 17 years because implied within Move Fast is also to move smart. I passed up opportunities over the years but when the perfect one presented, I jumped on it. My entire team was so psyched once they understood what Compass offered that they were all ready to make the quick jump as well.
#3
Learn from reality. The reality is that it is not a piece of cake to move a real estate team (with close to $450,000,000 in sales over the past five years) to a new broker. There are a lot of moving pieces. Which leads me to…
#4 
 Be solutions-driven. With the help of Compass's outstanding support structure and support staff, we got over the hump and wow did we flourish. And the amazing thing is that we are just starting to touch on the client services, technology, and marketing prowess that Compass has to offer. I am so excited about what the future holds for City Block Team and our clients.
Obsess about opportunity. I am so grateful to have been given the opportunity to be a Founding Member of the Compass Philadelphia Office.
#6
Collaborate without ego. Okay, successful Realtors are known to have big egos. When Robert Reffkin first explained to me that Compass recruits and hires the best agents in each city that will fit the culture of collaborating without ego, I loved that idea. I too had been caught up in competing for company volume awards and attending "mastermind" sessions where no one wants to share much of anything. At Compass, there are no sales volume awards. And Philly's top team leaders and agents meet every week to discuss best practices for real estate professionals and helping our clients. It is real and I love it.
#7
Maximize your strengths. My strength has always been my knowledge of everything Philly real estate and how to provide expert representation. My strength was never how to most efficiently run a top real estate team. Compass has given me the support to focus on representing my clients while enhancing the smooth operation of the entire City Block Team.
#8
Bounce back with passion. See No. 4 above (I always love a cross reference). I am so passionate about listing Philly homes and helping buyers. And so is the entire City Block Team.
This has been an amazing year and a superb fit.
Thank you so much to all the City Block Team agents and admin staff, the Compass Philly Management Team (Skye, John, and Jeff), the entire Compass support staff, and all of our buyers and sellers.
I look forward to the Fall Market and onto 2020!


Warm regards and have
a great weekend, 
Saturday, September 14, 2019

11:30 a.m. – 1:00 p.m.


11:30 a.m. – 1:00 p.m.


12:00 p.m. – 1:00 p.m.

304 S Juniper Street 

12:00 p.m. – 1:30 p.m.


2:00 p.m. – 3:00 p.m.


2:00 p.m. – 3:00 p.m.

 
Sunday, September 15, 2019



11:30 a.m. – 1:00 p.m.


1:00 p.m. – 2:00 p.m.

2:00 p.m. – 3:00 p.m.

 
Spotlight Property of the Week
4710 Kingsessing Avenue
University City (Cedar Park)
Brand New Listing
FIRST OPEN HOUSE: SATURDAY, 9/14  11:30 a.m. – 1:00 p.m.
6 Bed | 2.5 Bath  | 3,240 SF
$599,000
Sun-filled and spacious, this 3-story twin in the Cedar Park section of University City combines charming c.1900 Victorian details with a contemporary kitchen and 2.5 recent baths. There's an open front porch, a cozy living room, a full dining room and an eat-in kitchen on the first floor – plus, out back, a SUPERSIZED yard! The 160′ deep lot backs up to Reinhard St., with easy parking possibilities.
This West Philly classic is on a quiet residential street, just 3 blocks from the USciences campus, and a block from either of two trolley lines heading to center city, passing both UPenn & Drexel along the way. Much-loved Clark Park is two blocks east, and there are local restaurants, shops, and many things to do on nearby Woodland & Baltimore Avenues.

The following listings are only found on compass.com. This means they're not yet listed on the MLS. As a subscriber to "Around the Block," you'll always know what properties are coming soon. Interested?
Give me a call!
Philadelphia Jazz & Soul Festival

15th and South is the place to be on Saturday, 9/14. Admission is free 2:00 – 10:00 p.m. Visit this link to view the schedule of popular artist such as Arpeggio Jazz Ensemble presenting Undefeated Jazz Orchestra with special guest Carl Grubbs. Grab your neighbors, friends, and family and enjoy the live music, craft vendors, and food.

 
9th Annual Philadelphia Burger Brawl



What I like most about this event has nothing to do with meat or pickles. I love that this event funds literacy programming through technology for Philadelphia's underserved elementary and middle schools. Happening Sunday, 9/15 – rain or shine – at the Navy Yard (2:00 – 5:00 p.m.). Reserve tickets here. Children under 10 get in free. Enjoy burgers from over 60 restaurants.
BBQ and Beer in Mt Airy


Mt. Airy CDC's annual fundraiser held at Lovett Park (6945 Germantown Ave.) is all about the flavor of this neighborhood. Expect live music by Cedric A Napoleon and sweet and tangy food offerings from Herb Scott. Checking it out is free but the full food package is $35 in advance of the event (Monday, 9/16 4:00 – 10:00 p.m.). Get tickets and view a list of participating vendors here. This event is also great for appreciators of local art and people who love beer (gardens).
Magical and Free



Philly Free Week is actually 7 days of complimentary admission to Philadelphia's Magic Gardens. Only for Philly residents!! (

Sunday, 9/15  – Friday, 9/20,

11:00 AM – 6:00 PM).

Access includes the outdoor sculpture garden,

 awesome indoor galleries, daily discussions, and fun family activities.

On Sunday, 9/15, expect a DJ from Noon – 3:00 p.m.

Tickets should be reserved ahead of time (avoid lines and sold out time slots!)

Valid for General Admission only. More info here.
This Week's CBT Featured Listings
2004 Delancey Street

with 2-Car Garage

6 Bed | 5 Bath | 2 Half-Bath

$4,195,000

264 S 9th Street
with Garage Parking

OPEN HOUSE: SAT 12:00 – 1:30 p.m.

4 Bed | 2.5 Bath

$1,495,000

276 S 23rd Street
with Parking Available
OPEN HOUSE: SAT 2:00- 3:00 p.m.

2138 Catharine Street
with Garage

NEW LISTING
1st OPEN HOUSE: SUN 11:30 – 1:00 p.m.

3 Bed | 2.5 Bath | Finished Lower Level

$975,000

304 S Juniper Street

OPEN HOUSE: SAT 12:00 – 1:00 p.m.

3 Bed | 3 Bath | Finished Lower Level

$619,000

4710 Kingsessing Avenue

1st OPEN HOUSE: SAT 11:30 – 1:00 p.m.
SPOTLIGHT PROPERTY OF THE WEEK

University City (Cedar Park)

6 Bed | 2.5 Bath

$599,000

4521 Osage Avenue
BRAND NEW LISTING

1st OPEN HOUSE: SAT 11:30 – 1:00 p.m.

University City (Spruce Hill)

2024 Spruce Street #6

OPEN HOUSE: SUN 1:00 – 2:00 p.m.

870 N Pennock Street #B

with Garage Parking
OPEN HOUSE: SUN 2:00 – 3:00 p.m.

2 Bed | 1.5 Bath
$347,500

2401 Pennsylvania Avenue #2A2

OPEN HOUSE: SAT 2:00 – 3:00 p.m.

Connect with us on Social.
Just a quick reminder that I'm always humbled by and appreciative of your referrals. If you have a friend or family member that is in need of expert real estate representation, please send them my way. Be assured, I will do my best to exceed their expectations!
Thanks for taking the time to read this issue of Around the Block.
Some imagery in this e-newsletter was sourced via Visit Philadelphia®.
Pixabay, Canva.com, and pexels.com
© Compass 2019 ¦ All Rights Reserved by Compass ¦ Made in NYC
Compass RE is a licensed real estate broker and abides by Equal Housing Opportunity laws. All material presented herein is intended for informational purposes only. Information is compiled from sources deemed reliable but is subject to errors, omissions, changes in price, condition, sale, or withdrawal without notice. No statement is made as to the accuracy of any description. All measurements and square footages are approximate. This is not intended to solicit property already listed. Nothing herein shall be construed as legal, accounting or other professional advice outside the realm of real estate brokerage.