Cheesesteaks & interest rates, our new and current listings, and Philly happenings. If you'd like to discuss real estate or anything in this newsletter please send me an email: [email protected]. This edition of Around the Block was originally published on Friday, 6/17/22.
Relevant Commentary, all information Philly (real estate and otherwise), Open Houses, Listings, Happenings, and More — by Jeff "City" Block
Cheesesteaks & Interest Rates
It is Wednesday, and I am writing this week's piece a little early because I will be out Thursday and Friday and this weekend for a quick getaway.
Last week I wrote a nuanced piece on the state of the real estate market. Well, the several days since I last wrote have been intense for the economy. And certainly not great. A higher-than-expected inflation report, interest rates bumping up to 6%, the Fed increasing its benchmark rate by 0.75 percentage points, and builder confidence down 2% in June to the lowest level since June 2020 (which was then followed by two ultra-hot years of housing; goes to show how hard it is to predict). All of this could indicate that the economic landing may not be as soft as we hope. Everything is a question of degree, so let's see what happens next. My advice remains the exact same—do what works for you and your family. Don't try to time the market.
Ok, now let's move on to a light-hearted topic, and perhaps my most controversial topic ever!! I am going to highlight some of my favorite cheesesteak places as well as some other personal cheesesteak information. I would love to hear some of your thoughts and comments in response.
First, as a life-long Philadelphian, I not only personally love the cheesesteak but believe it is a source of justified pride for our great and historic city. We are clearly one of America's greatest food cities, and we have yet another James Beard Award winner as Christina Martinez (South Philly Barbacoa and Casa Mexico) was named Best Chef: Mid-Atlantic.
 I will talk more about Philly restaurants and food in future newsletters, but for now, let's get on with the cheesesteak.
Let's start with the best cheesesteak in the world. Unequivocally. By far. No holds barred. John's Roast Pork. At the corner of Weccacoe & Snyder Avenues in South Philly (off Delaware Avenue, generally by Lowe's and Target). Order ahead for a transcendent cheesesteak experience. A few things to note here. First, the place is called John's Roast Pork, yet I am extolling their cheesesteak. John's has solid Italian roast pork (not my favorite in the city but still pretty awesome), and pork is its namesake meat after all. By the way, John's won a James Beard Award for Excellence, I think for their roast pork actually, but they are known for their cheesesteaks. John's has an iconic logo and I have always believed that this pig is smiling because he knows that most customers are there to eat the beef. Sort of payback to those Chik-Fil-A bovines who are advocating that we eat more chicken.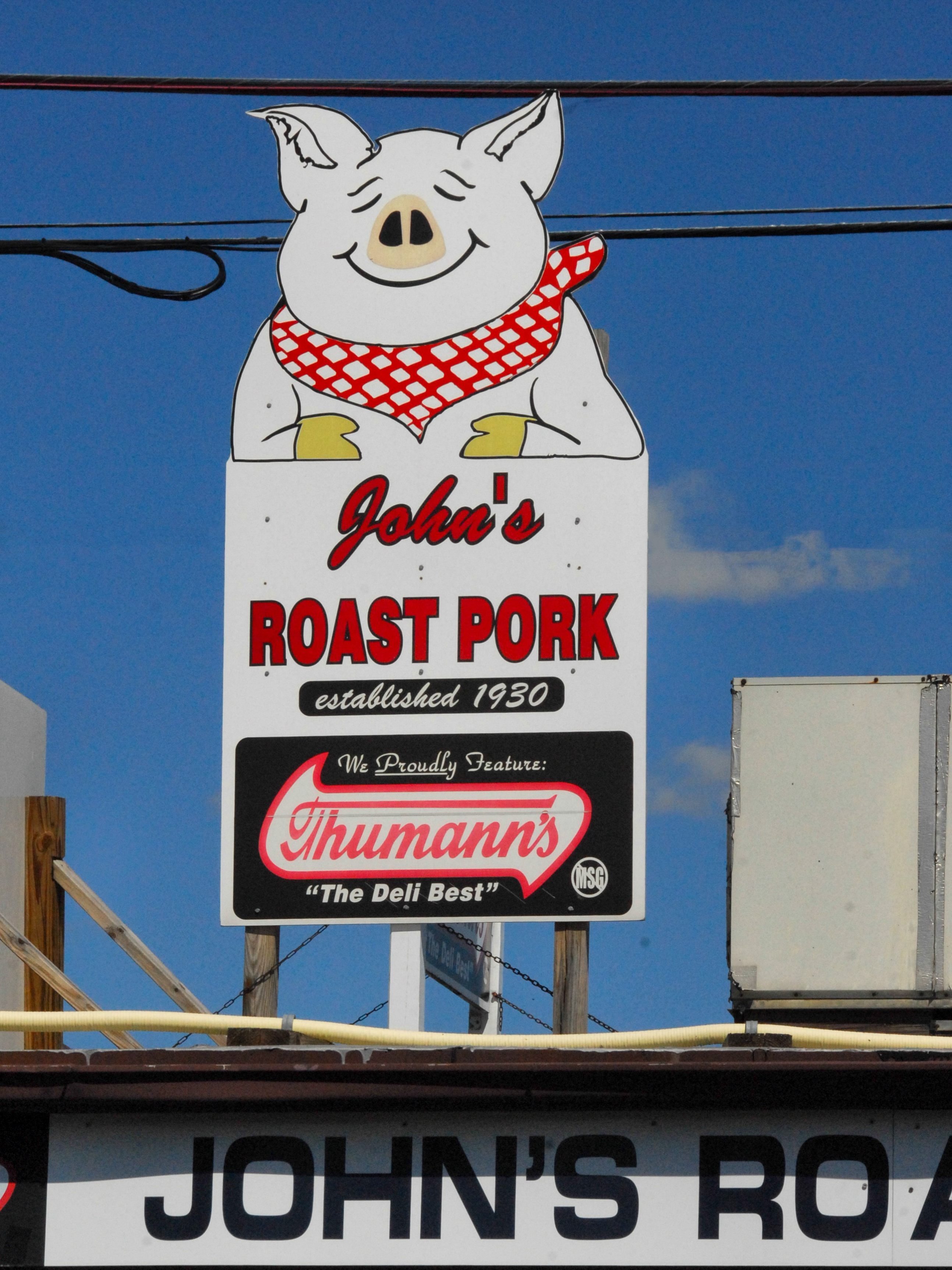 Now for most people, John's is really a destination meal. You want a quick spur-of-the-moment cheesesteak, and you are more likely to go to your neighborhood spot. Not order ahead and drive down to John's.
As far as neighborhoods go, let me start with mine. I live in Mt Airy and am less than a five-minute drive to the corner of Henry Avenue and Walnut Lane in Roxborough. (And here comes some controversy.) Wait in line for a dry cheesesteak from the overly-well done meat mountain on the grill at Dalessandro's? Not for me. I much prefer Chubby's across the street. Now based on the lines at the two places, most people seem to disagree. While I don't understand that jawn, I appreciate the shorter lines at Chubby's for what I believe is a better cheesesteak.
I grew up at 5th & Addison (between Pine and Lombard) and my cheesesteak place growing up was always Jim's. Not my favorite anymore, but a Philly classic, and a place I loved going to with my dad when I was a kid. And no, I have never tried the infamous "South Street Taco," which is a Jim's steak wrapped in a slice of Lorenzo's pizza.
When I am in Center City these days, I like Sonny's and Campo's, which are both on the 200 block of Market Street. Both highly recommended. Though, I must say, when I go to Campo's, I love some of their other sandwiches so much that I rarely get an actual cheesesteak. The Chicken Godfather is my favorite.
A cheesesteak I really want to try is Angelo's at 9th & Fitzwater. They have the city's best hoagies, and I have heard their cheesesteaks are amazing. Cash only. I highly recommend calling ahead with your order.
And for cheesesteaks outside the city, my favorite is White House Subs in Atlantic City. This may be my second favorite overall after John's. I have loved White House since I was a little kid. Also, I was randomly driving through Delco one day and ended up at Phil and Jim's in Brookhaven, which is apparently close to Chester and not far from Rose Valley and Swarthmore (I don't really know Delaware County, but City Block Team's Peter Watson is an expert). I really enjoyed their cheesesteak. Top notch for the burbs.
Now for a few more comments:
First, from reading this piece, you may assume I eat cheesesteaks all the time. I wish that were the case, but I rarely eat cheesesteaks anymore for obvious reasons. While I have eaten at all of these places in the past five years or so, I haven't eaten at too many others, and I just don't eat enough cheesesteaks anymore to be a true expert. It is just fun to extol (and debate) the cheesesteak, and I have been eating them my whole life. For example, I have been to Pat's and Geno's many times in my life but not in many years. And I think these tourist places get a bad rap from Philadelphians. Give them a break. They both serve a decent steak.
Second, up for debate for sure is what you put on a cheesesteak. I am neither judgmental nor a purist. Put on it what you like. That being said, you will seem a little off if you do certain things (like mayo or Swiss cheese, for example). But American, Cooper Sharp, Whiz, provolone—all good. Fried onions, absolutely. And I like ketchup. Some feel this is sacrilege, but I fully disagree. Give me an American wit, ketchup, on a seeded roll any day.
Third, I sometimes go chicken steak. Same fixings. All good. And I also love Philly's other unique and very special sandwich–the roast pork, generally served on a seeded hoagie roll with broccoli rabe and sharp provolone. While lesser known outside the area than the cheesesteak, you can get an amazing roast pork at scores of places throughout the city. My favorite is DiNic's at the Reading Terminal Market. With rabe and sharp, of course.
Ok enough. I do not plan to eat a cheesesteak too soon, but sometime this summer for sure.
1629 North Street
New Price
3 BD | 3 BA | 2,520 SF | Finished Lower Level | Rear Patio | Deck-ready Roof | Garage Parking | $885,000
On a beautiful, tree-lined, neighborly block–20 foot-wide, south-facing 3 bedroom, 3 full bath home with spacious finished lower level and GARAGE PARKING. Beautiful condition, including a gorgeous 2019 renovated kitchen.
Located on a most neighborly, quiet tree-lined Spring Garden neighborhood block, this home has a lovely rear patio and a pilot house to a deck-ready roof with Center City skyline views. High ceilings, hardwood floors throughout.
The open main living floor with fireplace and spectacular light is where you can really feel the 20′ width (it makes a huge difference compared to most townhomes).
All three bedroom have an en-suite bath.
The finished Lower Level has room for a home theater, playroom, office, and ample storage. Throw in a sofa bed for a 4th bedroom/guest room.
All this located on a most desirable block that is an easy walk to everything the Art Museum area (Whole Foods, Target, great restaurants and coffee shops), and Center City have to offer.
Markets, Attractions, and More

Throughout June on Saturdays, the Hyatt Centric Center City Philly hotel hosts a Pride Month Maker's Market which features awesome goods such as candles, ceramics, clothing, and more from local LGBTQ artists and makers.

Visit Eakins Oval at the Benjamin Franklin Parkway to see it transform into an eight-acre urban oasis called The Oval XP. This public space across from the Philadelphia Museum of Art will feature lots of new experiences such as:

The city's largest outdoor beer garden that includes 24 craft beers on tap and a rotating menu from local chefs

The kid-friendly Imagination Station that includes interactive games, a nine-hole miniature golf course, a carousel, and builder kits

The Summer Sound Stage

The largest mobile Ferris wheel in the world standing at 108 feet tall

A ground mural from artist Calo Rosa called Common Ground
237-41 N Bread Street #3 & 4

BRAND NEW LISTING

6 Bed | 4 Bath

$1,448,900

Mount Airy

New Construction

3 Bed | 3 Bath

$1,029,000

4623 Larchwood Avenue

NEW PRICE

5 Bed | 2 Bath

$1,000,000

1629 North Street

NEW PRICE

237-41 N Bread Street #4

NEW PRICE

705-11 Pemberton Street #711

NEW PRICE

3 Bed | 2.5 Bath

$725,000

100 N 22nd Street #111

NEW LISTING

3 Bed | 2.5 Bath

$700,000

237-41 N Bread Street #3

BRAND NEW LISTING

722 S Bancroft Street

NEW PRICE

3 Bed | 2.5 Bath

$695,000 
As always, please know that I'm humbled by and appreciative of your introductions and referrals. If you have a friend, colleague, or family member that is in need of Expert Real Estate Representation, please have them contact me.

Be assured, I will do my best to exceed their expectations! Thanks for taking the time to read this issue of Around the Block.
Some imagery in this e-newsletter was sourced via UWISHUNU and Canva.

marketingcenter-greaterphiladelphia-philadelphia