Meet CBT, new Bella Vista listing, and fun things to do in Philly this week. If you'd like to discuss real estate or anything in this newsletter please send me an email: [email protected]. This edition of Around the Block was originally published on Saturday, 5/22/21.
Relevant Commentary, all information Philly (real estate and otherwise), Open Houses, Listings, Happenings, and More — by Jeff "City" Block
Thursday night was awesome. Our first City Block Team dinner since we hit SPIN back in fall 2019 for a team ping pong tourney followed by awesome tacos and margaritas at Mission Taqueria. In the foggy realm of pandemic time, sometimes that night seems like it was a decade ago and sometimes like last month.
Fast forward to May 20, 2021, and a fully vaccinated group of CBT agents and admin staff was back at it. No ping pong or other creative team building fun this time (we have done an escape room and axe throwing, among other things). We are not quite back to that yet in our "new normal." But outside eating, split into two tables as per current regulations, that we could do. And it was a blast.
We opted for tacos, enchiladas, guac, and margaritas once again, as that is one of the team go-to's. This time at Xochitl in Society Hill. What better location than Head House Square, where you sit outside under the market shed (i.e., The Shambles). Note: my first ever summer job was as a clerk at Tancredi Apothecary in 1982. Pat Tancredi's old school pharmacy (No CVS's back then) was at 404 S 2nd (I believe), just two storefronts down from the present-day Xochitl. I guess here is where I should mention how much I love Society Hill, one of our nation's greatest neighborhoods.
With masks off and the food and beverages in play, we all had a super time. Here is the post-dinner photo, which was taken by a fellow diner at a nearby table (which was still many feet away).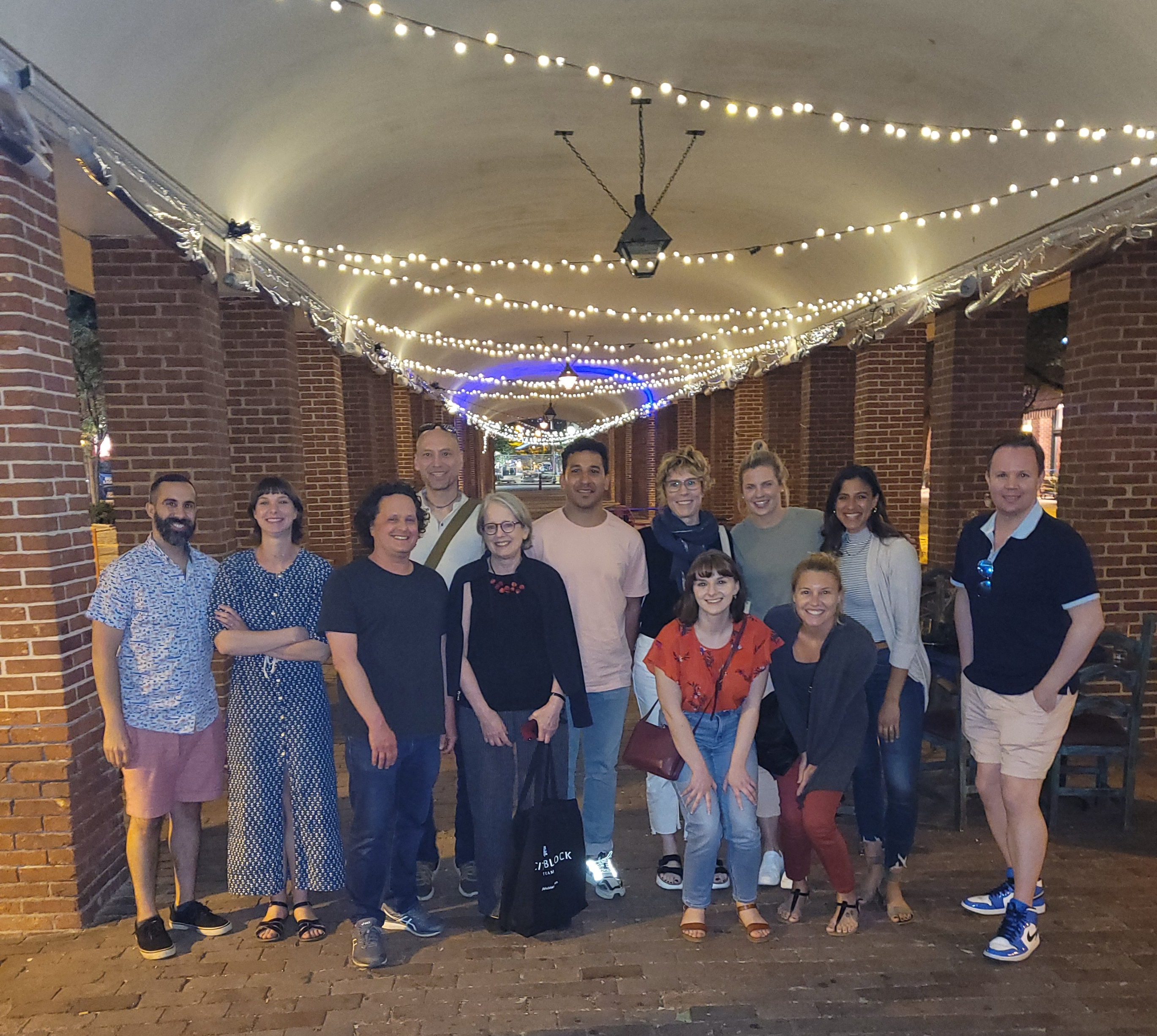 So let me introduce the team. They are all hard-working, caring REALTORS® or admins who always provide Expert Real Estate Representation. So, let me just throw in a random one-liner about each (and where they currently live, in parentheses). From left to right:
Navid Aberg—Navid is also a Registered Nurse (Fishtown)

Lauren Morihara—Lauren was a high-end optician on Rittenhouse Square (Queen Village)

Jeff Block—That's me (Mt Airy)

Greg Zarro—Greg and I have been best friends since high school at Friends Select in the 1980's (South Philly)

Melani Lamond—Melani was the President of the University City Historical Society (University City)

Martin Goldfarb—Martin played lacrosse at Penn Charter and Drexel University (Spring Garden)

Katrina Kugelmeier—Back in the day, Katrina worked at La Colombe. Her son also worked there decades later (Queen Village)

Megan Hoey—Like me, Megan is a Temple grad. While at Temple, she interned at the NFL Alumni Association (Voorhees, NJ)

Fiona Flanagan—Also a varsity athlete at Drexel, Fiona was a guard for the Lady Dragons basketball team (Passyunk Square)

Missy Tewksbury—Missy likes to rehab and flip houses (Graduate Neighborhood)

Deannah Shaheen—Deannah was a yoga instructor throughout the Philly area (Bella Vista)

Peter Watson— Peter was an event planner and charitable fundraiser (Rittenhouse Square)

Carrie Waterman (attended but not in photo)—Carrie was on the conveyancing side of residential real estate for 7 years before becoming a REALTOR® (University City)

Ian Creech (not in photo)—Frequently seen riding a One Wheel throughout the city (Fishtown)

Andrew Hollin (not in photo)— Andy previously worked for an Ophthalmologist at HUP (Manayunk)
It was great to see the team in person. It sure beats Zoom.
Have a great weekend, everybody. I hope you are getting to see more of your friends, family, and colleagues as well.
608 S 9th Street #1
BRAND NEW LISTING
2 BD | 1.5 BA | 1,423 SF | Significant Character | Private Patio | Prime Location | $595,000
Sophisticated. Stunning. Spacious. Dramatic 2 bedroom, 1.5 bath bi-level residence. Private patio. Remarkable light and volume, exposed brick. Walk into a dramatic space with significant character and architectural details. Hardwood floors. Substantial glass and light.
Capacious, open living space that includes a granite and stainless eat-in kitchen, and a living and dining area with double height 19′ ceilings and exposed brick and stone. Brick, gas fireplace. The powder room with exposed stone and tile used to be a vault and was dug out during the restoration. Steps to lovely private patio.
The upper floor has two bedrooms. The master has an exposed brick fireplace and a discreet door to the cute, private patio. Ceiling fan. Double closet. The light-filled second bedroom can be fully private by using curtains or leave it open as a den or spectacular home office. Exposed brick. Ceiling fan.
Excellent storage including a separate basement storage area. Convenient Garage Parking within one block ($260/month in the Acme self-park garage).
Prime location within one block of Whole Foods, dog park, and a lot more. Walk to Midtown Village, Society Hill, Bella Vista, Wash West, Queen Village, Italian Market, and everything Center City has to offer. 99 WalkScore, 99 TransitScore, 90 BikeScore.
Well run, well maintained condominium building. Reasonable condo fees.
Jewish American Heritage Month (JAHM)

May is

Jewish American Heritage Month

and Philly's National Museum of American Jewish History has events happening throughout the month. Check out the

full itinerary

, which includes online exhibitions, film screenings, panel discussions, and more.
(Safe) Philly Fun This Week
Highlights of East Passyunk Food Tour

On Saturdays throughout the summer, foodies can learn more about one of the best neighborhoods for cuisine in all of the country.

Here are the restaurants that the tour will visit:
University City

8-Unit Detached Property

Mount Airy

New Construction

608 S 9th Street, #1

BRAND NEW LISTING

2 Bed | 1.5 Bath

$595,000

250 S 17th Street, Unit 100

3 Bed | 2.5 Bath

$525,000 

2 Bed | 1.5 Bath

$485,000 

4617 Pine Street, Unit H210

4 Bed | 2.5 Bath

$425,000 

2333 Mountain Street

BRAND NEW LISTING

3 Bed | 1.5 Bath

$258,000 

1810 Rittenhouse Square, Unit 503
As always, please know that I'm humbled by and appreciative of your introductions and referrals. If you have a friend, colleague, or family member that is in need of Expert Real Estate Representation, please have them contact me.

Be assured, I will do my best to exceed their expectations! Thanks for taking the time to read this issue of Around the Block.
Some imagery in this e-newsletter was sourced via Visit Philly, UWISHUNU Philadelphia, delawareriverwaterfront.com, bok-bar.com, thephiladelphiacitizen.org, philamuseum.org, paballet.org, fareharbor.com, and Canva.

marketingcenter-greaterphiladelphia-philadelphia