Spring bird migration, our new and current listings, and things to do in Philly. Are you a birder or have any interest in birding?  I'd love to discuss. Please send me an email: [email protected]. This edition of Around the Block was originally published on Friday, 4/8/22.
Relevant Commentary, all information Philly (real estate and otherwise), Open Houses, Listings, Happenings, and More — by Jeff "City" Block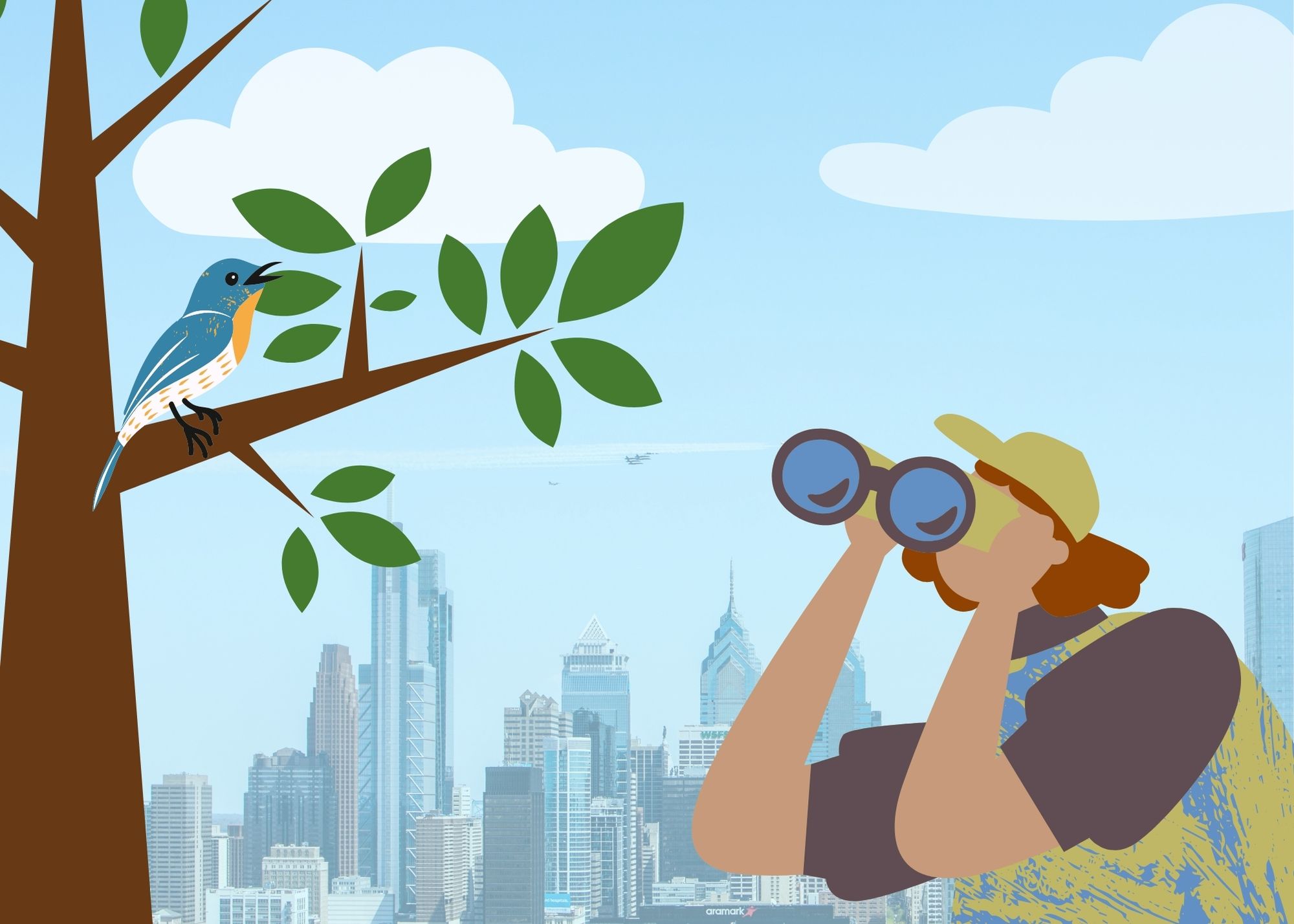 As promised, this week, I am going to focus on the spring migration. Not the "migration" of so many home buyers and sellers that makes up this spring market. I am talking, of course, about the spring migration of tens of millions of birds that fly north through the Philadelphia region every spring, from approximately April through June.
Last week I discussed Bird Safe Philly's Lights Out Philly initiative where Philadelphia buildings and residents turn off their lights at night to help prevent bird collisions during the spring and fall migrations. As I mentioned last week, bird collisions with man-made structures kill up to One Billion birds in the United States every year. You can take part by turning off your lights after midnight and simply signing up for Lights Out Philly here.
Now I want to talk about the joys of spring migration. First, to provide some context, I am neither a regular birder, a birding expert, nor even a full-fledged birding enthusiast. My wife Kristen is a birder, and I have come to fully appreciate the beauty and variety of our feathered friends. (And birds are most definitely "friends" from an environmental standpoint. They are literally essential to our ecosystem.)
I have always enjoyed a hike, and spotting birds while out in nature just makes it that much more enjoyable. Now I often bring my binoculars along to check out the birds. Whether spotting a little downy woodpecker, blue jay, red-tailed hawk, or a Baltimore oriole, it is always a thrill to see those beautiful, colorful little guys and gals. It adds something to every hike and during spring (and fall) migration, we sometimes take an hour or two (or even make a day or half-day of it depending on where we are going) and visit some amazing spots in our area where you will often see a maximum variety of birds.
Our favorite local spots (in no particular order) are:
The Wissahickon. Multiple spots including the Andorra Meadow.

The Discovery Center. Great spot, right across from Smith Playground. A partnership of the National Audubon Society and the Philadelphia Outward Bound School.

Dixon Meadow Preserve. Beautiful meadow with an easy, accessible boardwalk that takes you over the marshland ecosystem. Perfect for a shorter family nature walk with little kids, strollers, etc. Gorgeous, natural setting. Definitely worth the drive to Lafayette Hill. By the way, at Dixon Meadow, of all the bird species you could possibly see in the US, 25% of them have been spotted here.

John Heinz at Tinicum National Wildlife Center. Many of you have probably been to John Heinz. If not, you should definitely go. Birds, biking, hiking, around and through multiple topographies. Just a really cool place. Right by the airport.

Awbury Arboretum. Not just for goats. Check out the birds as well.

Morris Arboretum. Simply one of the most beautiful places in Philadelphia. Spectacular place for kids and adults. Plus, the birds.

Spruce Hill Bird Sanctuary. The quintessential hidden gem. Right in University City (just one block from my new listing at 216 S Melville!). If you are in the neighborhood, be sure to stop in.

Anywhere in the city. Even Center City. Perhaps your backyard. Certainly, if you have a feeder. Of course, you will tend to see more in the natural areas mentioned above because birds flock to the wooded, marshy, and meadow ecosystems because of their superior sources of food, water, and shelter.
And there are many regional places as well, perhaps most famously, Cape May, NJ. Definitely worth a spring day trip for a birding hike and lunch in town. And so many other places throughout PA, NJ, and DE as well.
As I implied above, I am a total beginner at this. And it is so much fun. Here is some information on getting started.
Opening Day. GO PHILLIES!
2217 N 51st Street

Represented Buyer and Seller

3 Bed | 2.5 Bath

$605,000 

5 Bed | 2.5 Bath

$565,000 

3 Bed | 2.5 Bath

$550,000 

1811 Chestnut Street #502
Here is a list of the 9 other properties the City Block Team sold in March:
304 S Philip Street
Brand New Listing
2 BD + Family Room | 2.5 BA | Bonus Room | 2,250 SF | Significant Character | 1-Year Paid Parking | $995,000
Significant character in this historic (c.1818) home on one of Society Hill's most desirable, quiet, cobblestoned streets.
Renovated home with spectacular kitchen and all new baths. 2 bedrooms plus family room and bonus room, 2.5 baths (could be readily converted to a 3 bedroom by adding a wall on 2nd floor). Approximately 2,250 sq.ft. Hardwood floors, high ceilings, early 19th century character. 1-year paid parking in Head House Square Garage.
This sunny home offers the perfect mix of character and renovation, plus an ideal location. Just blocks from all the best restaurants, coffee shops, entertainment, and shopping of Society Hill, Old City, Penn's Landing, and all that Center City has to offer. 2 blocks from the superb Head House Square Farmers Market (and the garage parking is right across the street). In the McCall School Catchment. One of the original homes placed on the Philadelphia Historic Register.
PROFESSIONAL PHOTOS COMING SOON.
Happenings this Week and Onward

Head to the Museum of the American Revolution for its family-friendly spring break programming. Visitors can dress up in Revolutionary War-era outfits, join in on daily scavenger hunts, and help the Continental Army pitch tents and pack supplies for their historic march out of Valley Forge.
| | |
| --- | --- |
| | |
Events with Beer and Other Booze

Enjoy food, beer, and specialty cocktails at the Pennsylvania Horticultural Society (PHS) Pop Up Garden in either its Manayunk

 or 

Center City location

. At the Manayunk garden, there is a new game room with Skee-Ball, foosball, and pop-a-shot. And at the South Street

garden,

 there are new monthly plant swaps with giveaways of houseplants, succulents, annuals, and more. 

Last Thursday The Bourse brought back outdoor programming on its 5th Street patio. Head there this Friday for an outdoor movie screening and reserve a table for up to four people.
Mount Airy

New Construction

304 S Philip Street

BRAND NEW LISTING

3 Bed | 2.5 Bath

$995,000

1629 North Street

BRAND NEW LISTING

3 Bed | 2.5 Bath

$749,500

216 S Melville Street

BRAND NEW LISTING

4 Bed | 2.5 Bath

$625,000

4618 Paschall Avenue

NEW LISTING

619 Wilder Street

NEW PRICE

3 Bed | 1.5 Bath

$324,620
As always, please know that I'm humbled by and appreciative of your introductions and referrals. If you have a friend, colleague, or family member that is in need of Expert Real Estate Representation, please have them contact me.

Be assured, I will do my best to exceed their expectations! Thanks for taking the time to read this issue of Around the Block.
Some imagery in this e-newsletter was sourced via UWISHUNU and Canva.

marketingcenter-greaterphiladelphia-philadelphia