Please note that this newsletter was originally published on Friday, 2/7/20. If you missed our Open Houses, we'd be happy to set up a time and date that works with your busy schedule. Just reach out to [email protected] and we'll get it all arranged.

Volume 19 : Issue 60                                                                                                                                            
2/7/20                                                                                                                                                                                                                                                                  
Your Weekly Dose of Real Estate News, Open Houses, Listings and More — by Jeff "City" Block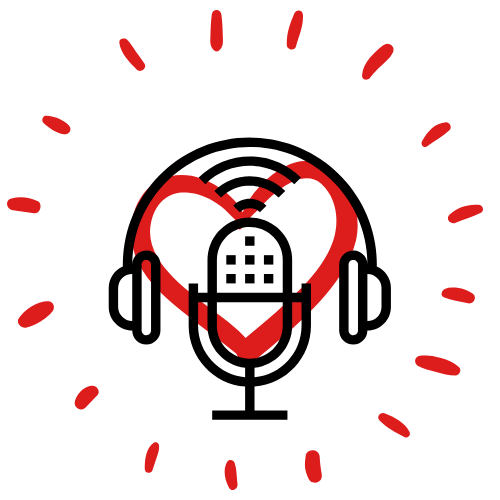 I spend most of my time providing expert real estate representation to my clients. And when I am in social settings, people love to discuss Philly Real Estate (I do too, so it works out). When I am not in the office, at one of my listings, or on a showing, I am often on the phone or checking my emails. I am truly fortunate that I spend so much time doing what I love.
When not working, it is all about Kristen, Ari, and Ezra, and that is the most special time of all.
So when I do have some alone time, I often just want to relax and learn, laugh, and chill. I love to read and I have always listened to music, sports radio and watched a few shows on TV, and I still do.
Over the past couple of years, I have really gotten into podcasts, and there are some amazing ones, most of which I discovered through word-of-mouth. Likewise, I have shared my favorites with friends and family. So I thought it would be fun if, for this week's newsletter, I asked the members of the City Block Team what Podcasts they listen to. And I would welcome any recommendations from readers in return, as well as hearing from you if you enjoyed (or already listen to) any of the recommendations. So here goes—
Jeff "City" Block
Associate Broker, Esq.

Compass Philadelphia Founding Agent

Wondery Podcast Network has some really high-quality shows, like Business Wars, American Scandal, American History tellers, Deadly Misadventures, and Legal Wars.

Also, I drive my kids to school every morning and there are a few shows that are perfect for parents to listen to with their kids. These scripted serials are so good, that my kids and I have a pact that we will only listen when the three of us are together because none of us want to miss a single moment. And that includes me. This is the highest quality family entertainment—try Six Minutes and The Unexplainable Disappearance of Mars Patel. There are more I can recommend as well.

I love to laugh super hard at really funny things, and for that, there is one podcast and one Sirius comedy station (not Howard Stern) that I love. This material is categorically not appropriate for kids (and likely some adults), so I will not mention them here. You can contact me directly if you want this information.

Finally, I do not listen to Real Estate podcasts. I spend significant time both teaching and learning from some of the best real estate minds in the business right here at Compass Philly.
Asher Chancey  
Sales Professional/REALTOR®️

I am a follower of the Hrishikesh Hirway suite of podcasts – Song Exploder, in which musicians deconstruct their songs and tell stories about them (the Closing Time episode will change the way you hear that song),

The West Wing Weekly which is great for fans of The West Wing and not for people who aren't,

Additionally, I'm intrigued by a new one which is about to start called Partners, which is about successful teams of people discussing their partnership and what makes them successful.
Missy Tewksbury

Sales Professional/REALTOR®️

Here are my favorite podcasts of the moment (in no particular order). 1) serialpodcast.org – One true story—told over the course of a season. Hosted by Sarah Koenig. 2) Jeff isn't the only one who likes Wondery. It's an amazing network of storytellers and the fastest-growing podcast company in the world, with hit podcasts Dirty John, Business Wars, and Dr. Death. 3)

My Favorite Murder is the hit True Crime Comedy podcast hosted by Karen Kilgariff and Georgia Hardstark. The show has broken download records and sparked an enthusiastic, interactive loyal fan base. It's also a

 top-10 regular on iTunes' comedy podcast chart,
Jami Slotnick
Director of Marketing


Conrad Benner makes for a highly entertaining host on the Streets Dept Podcast. Conrad sits down with the creative minds shaping the world around us, from Philadelphia and beyond.

I also like A Pivotal Moment, which explores turning points in the lives of different people. Host Lindsay Neuman takes a deep dive into how these realizations have an everlasting impact on decision-making.
Carrie Waterman


Sales Professional/REALTOR®️

I agree with Missy above.  'Serial' is a great murder mystery podcast. It's actually the only Podcast I've ever listened to so I'm way behind. I hear season 3 is set in a typical American courthouse, focusing on extraordinary stories of ordinary cases.

Also, I'm all about saying "Hey Google, what's the news?" to my Sonos every morning, and I love to listen to music in my downtime when my kids aren't blasting the theme song to Star Wars.
Kendra Poole
Sales Professional/REALTOR®️

My Favorite Murder is a favorite of mine (and MIssy's above). The show spawned the term "Murderino," which is a person with an admittedly obsessive interest in true crime, and the specific nature and details of ominous fatalities by unnatural causes.
Peter Sterling Watson
Sales Professional/REALTOR®️

I enjoy listening to Porsha 4 Real, the podcast from Real Housewives of Atlanta star, Porsha Williams. Each week she uploads behind-the-scenes stories from the show, plus plenty of beauty and relationship tips! Nothing is too real for Porsha to talk about! She candidly reveals Housewives scuttlebutt and invites Housewives from other Bravo seasons talk gossip on her show.  She recently opened up about her engagement and all the hoopla surrounding it. It's just unfiltered, funny stuff and a great way to mentally decompress from a busy workday!
Andrew Hollin
Sales Professional/REALTOR®️



I really like Marc Maron's "WTF".

 

He's a seasoned comedian with solid interview skills. Some of his best episodes include guests Barack Obama, Pete Davidson, Sean Penn, Terry Gross, and Kevin Smith. Marc Maron has been writing and performing raw, honest and thought-provoking comedy for over two decades. If you enjoy nothing-off-the-table conversations with iconic personalities then you should check it out.
I am excited to check out some of CBT's recommendations as well as the New Yorker list in the link above. Very cool.
Also, the main reason people give me for not listening to podcasts is that they do not understand exactly what they and just how easy it is to listen to them (and free or at least very reasonable). I am no podcast expert, but if you have any questions about this, please just let me know.
Finally, if any of you missed last week's newsletter about me taking my son Ari to the Sixers game two days after the tragic accident that killed Kobe Bryant, his teenage daughter, and seven other people, and how meaningful that was for a father and son, you can read it here. A few people asked me for this link as were, so here you go.
Sunday, 2/9/20



1:00 p.m. – 3:00 p.m.








Spotlight Property of the Week
3405 Baring Street
Brand New Listing in University City
6 Bed | 4.5 Bath | 3,360 SF
$875,000

This gorgeous 3-story Victorian twin home features today's popular open layout while also retaining so many of its c.1870 original details.There is space for everything – on the first floor, a huge living room with a fireplace, a full dining room, 1/2 bath, a fabulous eat-in kitchen, and a rear study (OR breakfast room, OR family room) opening out to the back patio and side perennial gardens. Upstairs, 6 bedrooms and 4 baths have flexible layouts and bonus nooks. If you don't need the entire place yourself, use the top floor as housing for an au pair or relative. It's a legal 1-or 2-bedroom in-law apartment with a recent kitchen and bath. Or, opt to rent it for income to help pay the mortgage.Baring is one of the most beautiful streets in the Powelton Village section of University City, Philadelphia, just west of Drexel University. The tree-lined 3400 block features 19th-century iron fencing, old-fashioned sidewalks, and lush summer gardens. The location is within the catchment area for the well-regarded K-4 Samuel Powel public school.
Invisible City: Philadelphia and the Vernacular Avant-garde | Happening now through

 April 4



This art exhibition spotlights Philadelphia's major contributions to visual, literary, and musical cultures between 1956 and 1976. Taking place at University of the Arts, expect key works by the period's major architects, photographers, sculptors, designers, painters, and out-of-the-box conceptual artists. The innovative project invites attendees to think about Philadelphia as "a city of firsts" in a new way – celebrating our urban landscape and its legacy of bold creators. View the entire schedule of programs here.
Philadelphia Auto Show | February 8-17


From February 8-17, the Philadelphia Auto Show will be held at the Pennsylvania Convention Center with a powerful presence that will span over 750,000-square feet. The event will highlight over 700 of the newest classic, luxury, and exotic cars—perfect for car enthusiasts or those looking for a new ride. Click here to purchase tickets and for more information.
Philly Theatre Week | Happening now through February 16


In its third year, this celebration

features 75+ companies and more than 300 events.

Tickets range between free and $30.

You can download the official Philly Theatre Week guide to keep track of performance schedules. If you're a fan of dance shows, readings, comedies, panel lively discussions, and workshops then this week-long event is for you. PTW takes place across the city and it's an awesome way to explore different neighborhood venues and performance styles.
Blue Heaven – A FringeArts Comedy Festival | February 7 & 8



Read about the participating stand-up comedians and purchase tickets here. FringeArts (

140 N. Columbus Blvd./

Race St.)

 welcomes exciting new funny people to Philly for two nights of performances, multimedia stand-up, memorable sketches, and more. It's a weekend of laughter and socially relevant acts from the latest generation of artists recreating contemporary comedy in 2020.
This Week's Featured Listings
2004 Delancey Street

2-CAR GARAGE

6 Bed | 5 Bath | 2 Half-Bath

$4,195,000

3405 Baring Street

NEW LISTING
SPOTLIGHT PROPERTY

6 Bed | 4.5 Bath | 3-Story Victorian

$875,000

800 S St Bernard Street
NEW LISTING

 Renovated Triplex plus GARAGE


$725,000

5010 Hazel Avenue

OPEN HOUSE: SUN 1:00 – 3:00 p.m.

New Construction with

10-Year Tax Abatement

4 Bed | 3.5 Bath

Finished Lower Level

$579,000

202-10 W Rittenhouse Square #2503

On-site Parking Available

NEW LISTING
1st OPEN HOUSE:
SAT 12:00 – 1:00 p.m.

531 Greenwich Street

NEW PRICE REDUCTION
OPEN HOUSE: SAT 12:00 – 1:00 p.m.

2 Bed | 2.5 Bath
$365,000

173 W Price Street

OPEN HOUSE: SAT 11:30 – 12:30

BRAND NEW CONSTRUCTION

10-YEAR TAX ABATEMENT

351 S 47th Street #B205

Garden Court Condominium

3 Bed | 2.5 Bath
$295,000

2053 Christian Street #B

NEW LISTING

1st OPEN HOUSE:

SAT 2:00 – 3:00 p.m.

240 W Penn Street

OPEN HOUSE: SAT 1:00-2:00 p.m.

BRAND NEW CONSTRUCTION

10-YEAR TAX ABATEMENT

3 Bed | 1.5 Bath
$269,500

Search thousands of real-time listings, organize potential homes with "Collections" and work directly with me throughout the process!

Just click on image above.
2003 Brandywine Street

264 S 9th Street

501 S 45th Street

503 S 45th Street

902 S 48th Street

4610 Springfield Avenue

3914 Brandywine Street

315 New Street #510

1501 Green Street #4

1324 Locust Street #505

2215 Cantrell Street

1018 S 24th Street

416 N Saunders Avenue

2004 S Beechwood Street

167 W Abbottsford  Avenue

1844 McKean Street

1508 N Mascher Street #10

2350 N Park Avenue

1730-32 W Seybert Street

407 S 43rd Street

As always, please know that I'm humbled by and appreciative of your introductions and referrals. If you have a friend, colleague, or family member that is in need of expert Real Estate representation, please send them my way.

Be assured, I will do my best to exceed their expectations! Thanks for taking the time to read this issue of Around the Block.
Some imagery in this e-newsletter was sourced via Visit Philadelphia®.
Pixabay, Canva.com, and pexels.com
© Compass 2020 ¦ All Rights Reserved by Compass ¦ Made in NYC
Compass RE is a licensed real estate broker and abides by Equal Housing Opportunity laws. All material presented herein is intended for informational purposes only. Information is compiled from sources deemed reliable but is subject to errors, omissions, changes in price condition, sale, or withdrawal without notice. No statement is made as to the accuracy of any description. All measurements and square footages are approximate. This is not intended to solicit property already listed. Nothing herein shall be construed as legal, accounting or other professional advice outside the realm of
real estate brokerage.