Holiday thoughts, Philly co-ops, and our listings. How do you feel about holidays? Do you shop at any Philly co-ops? I'd love to discuss. Please send me an email: [email protected]. This edition of Around the Block was originally published on Saturday, 2/20/21.

marketingcenter-greaterphiladelphia-philadelphia

Relevant Commentary, all information Philly (real estate and otherwise), Open Houses, Listings, Happenings, and More — by Jeff "City" Block
City Block Team Shares the Love
The City Block Team members celebrated two holidays last weekend, and we had a lot of fun.
For Valentine's Day, Weavers Way Co-op was offering cute gift boxes with fine local cheeses, an awesome local Strawberry Lemon Lavender Preserve, and a few organic fair trade chocolate pieces. Great idea. Of course, me being so busy with work (and generally a holiday sloth), I had not even considered Valentine's day. So, my wife Kristen (a joyful holiday enthusiast) suggested that these boxes would make great little gifts for my team members and for Ari's & Ezra's teachers.
Excellent idea, but by the time I got back to her, it was just past the Weaver's Way deadline (Yes, my friends and family know I seem to have a lot more time for work than for holiday and life events–I am working on this).
That is where Weavers Way's incredible customer service and awesome staff came in. Kristen called the co-op and asked if we could get a lot of boxes, on short notice. A wonderful employee named Shawn O. took the time to track down their last boxes from all three Weavers Way stores, plus asked staff to make up some more boxes, and arranged to have them delivered to the Mt Airy store, which is right by my house. Shawn could have easily said they have a few in stock and left it at that (they would have sold these even without my purchase). But she took the extra step to make this happen. Kristen and I are so appreciative of her help and of Weavers Way Co-op in general. The best markets ever. (Philly in general has awesome co-ops, from Mariposa in University City to the brand new South Philly Food Co-op, and many more, and not all food co-ops, by the way).
So I got the boxes on Saturday morning, loaded the kids in the mini-van, and spent the day delivering the boxes; from Northwest Philly to South Philly, from Art Museum to Fishtown, from East Oak Lane to Sicklerville, NJ. And from Rittenhouse to Graduate (ok, that drive only took like 5 minutes). The kids and I had a fun day and Kristen got an extremely rare and valuable solo day at home. And it was cool to see the CBT agents and admin staff and the teachers at their snowy homes. It was a blast.
I am learning, slowly but surely, that more active participation in holidays (and not just work, work, work) can be really rewarding. This is something that other City Block Team members already know, as is evidenced by the photos below.
(I even took some workday time to spend with my kids when they were home on Presidents' Day. I am learning!).
Have a great week, everyone.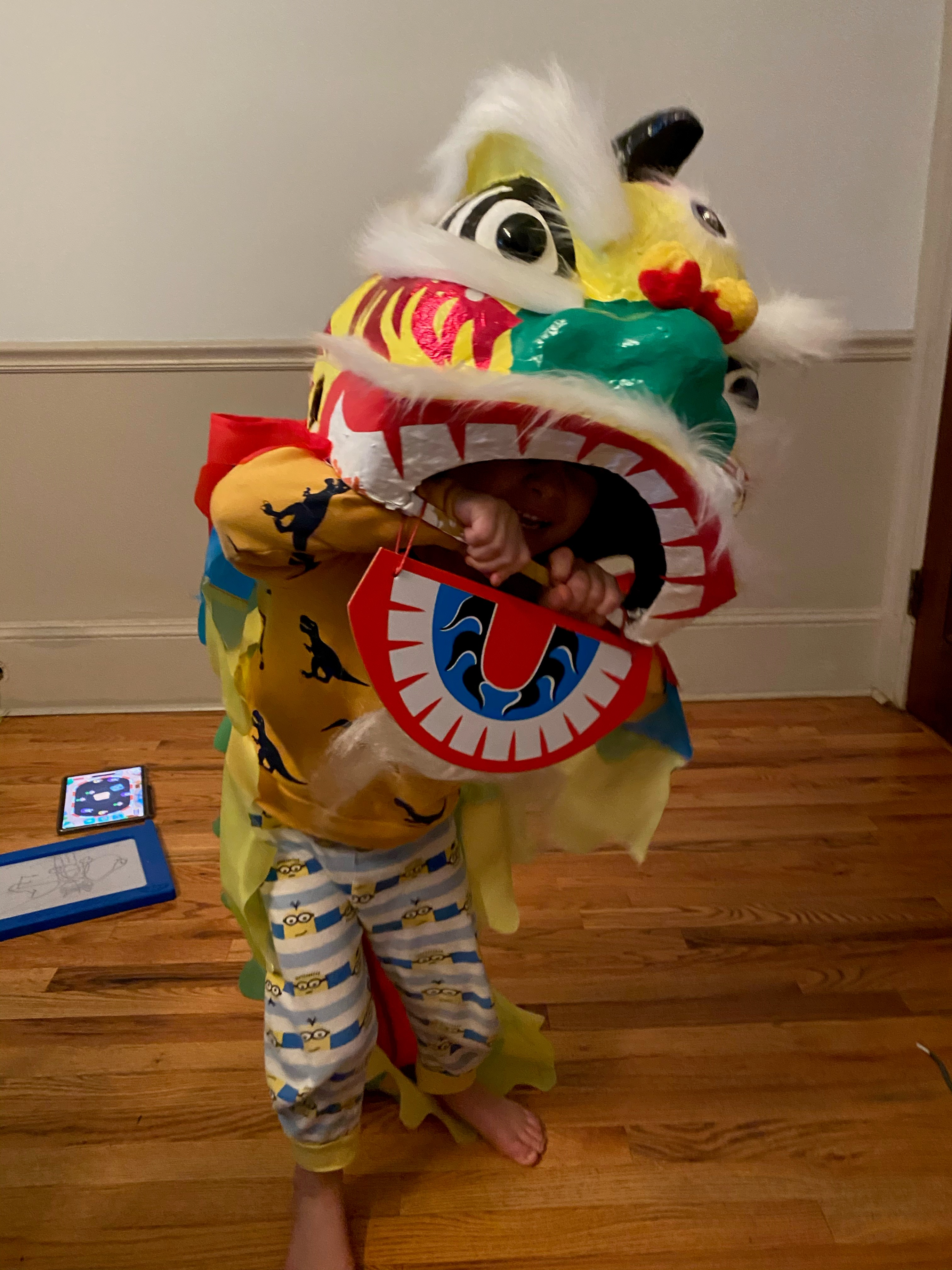 Lauren Morihara's family welcomed in the Lunar New Year (year of the Ox). I love her son Maui's really cool dragon costume.
Carrie Waterman took a picture with the LOVE statue at Penn's campus and drew a lovely heart in the snow.
Peter Sterling Watson took a picture with the Valentine's Day display created by AKA and The Dandelion.
Megan Hoey and her family made heart shaped cookies.
Melani Lamond spent some time with her "furry Valentine," who is literally sitting in a heart shape. Melani rescued Beau came from West Philly's own Project Meow.
4 BD | 2 BA | Historic Home | Plenty of Outdoor Space
$819,000
Historic Society Hill home located on tree-lined Lombard Street in the McCall School Catchment. Designated on the Philadelphia Register of Historic Places, the property has been lovingly cared for and maintained by the seller for over 25 years. Tastefully updated and with plenty of outdoor space, this beautiful three story home has 4 bedrooms, and 2 full bathrooms. First and second levels are enhanced by an extension which dramatically increases the size of the living space. Third floor is ready for a deck overlooking the courtyard. Rear patio and second floor roof deck provide ample outdoor space.
PERFECT LOCATION. 99 WalkScore and 100 Transit Score. South facing and across from Starr Garden for the best possible light. Easy walk to so many restaurants, coffee shops, night spots, shopping, farmers market, Washington Square, Old City, Penns Landing, South Street and more! MCCALL CATCHMENT.
(Safe) Philly Fun This Week
Delicious Philly Food & Drink 

The creativity and innovation doesn't stop for Philly chefs and restaurants who are adding a ton of new dining experiences to the food and drink scene. Indulge this week at any of the following:

Check the city's website for this week's road closures and brave the cold to enjoy dining in normally busy streets.
Philadelphia Orchestra Tributes to Florence Price

During a special Philadelphia Orchestra event you can listen to the music of Black composer Florence Price.

Pianist Michelle Cann makes her Philadelphia Orchestra debut performing Price's works in a digital concert that runs Feb 18-25.
4 Bed | 4.5 Bath

$1,275,000 

East Mount Airy

New Construction

250 S 17th Street, Unit 100

4617 Pine Street, Unit H210

4 Bed | 2.5 Bath

$449,000
As always, please know that I'm humbled by and appreciative of your introductions and referrals. If you have a friend, colleague, or family member that is in need of Expert Real Estate Representation, please have them contact me.

Be assured, I will do my best to exceed their expectations! Thanks for taking the time to read this issue of Around the Block.
Some imagery in this e-newsletter was sourced via Visit Philadelphia®. UWISHUNU Philadelphia, and Canva.