Volume 19 : Issue 59                                                                                                                                            
 1/30/20                                                                                                                                                                                                                                                                    
Your Weekly Dose of Real Estate News, Open Houses, Listings and More — by Jeff "City" Block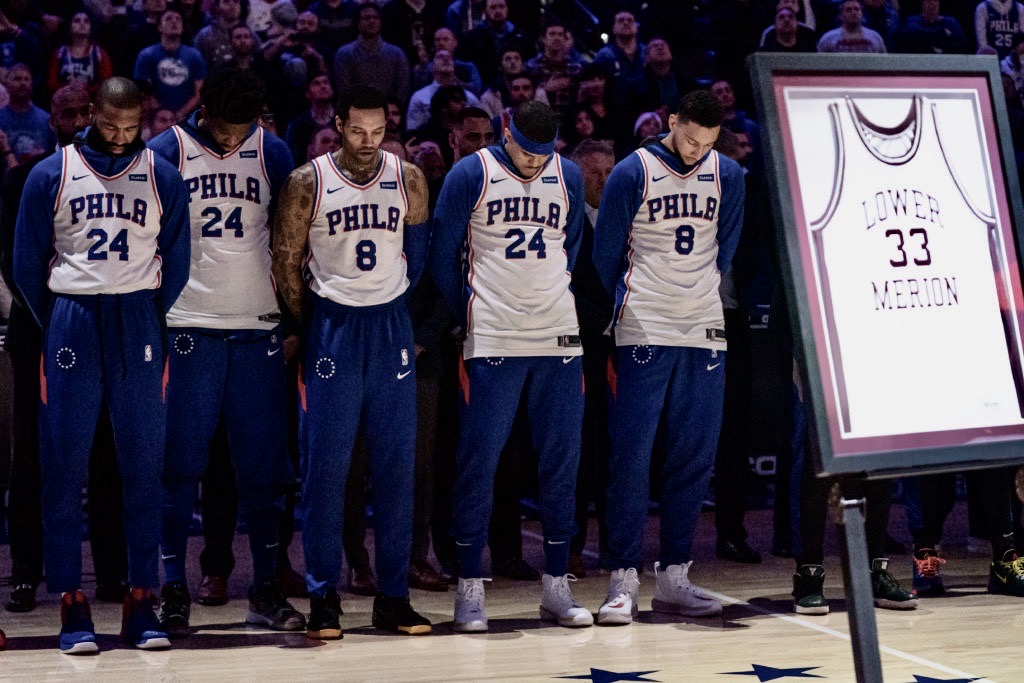 I took my son Ari to the 76ers game on Tuesday. We planned it a couple of months ago and were really looking forward. Little did we know that Sunday would be a tragic day where nine people, including three teenagers, would die in a sudden helicopter crash in the mountains just outside Los Angeles.
Of course, one of those killed was Kobe Bryant, from Lower Merion High School, who went on to be one of the greatest players in the history of the NBA.
As a Sixers fan, honestly, Kobe was never one of my favorite players, and I know he was accused of some past off-the-court conduct that angered many, and, if true, with good reason.

Recently though, the Kobe I saw was a husband and father and philanthropist. Those who met him said he was generally kind and respectful to all he met.
This fatal crash was a tragedy and the 76ers ceremony was both moving and dignified. From the Sixers wearing 8 and 24 Bryant jerseys in warm-ups to the 9 beams of light, Kobe's #33 LM jersey, the 33 seconds of silence, and skipping player intros so they could play Matt Cord's spectacular intro of Kobe's last time playing in Philly during his retirement tour. The mutual 8 and 24-second violations by the Sixers and Warriors to start the game.
And then Embiid returning from a 9-game absence and wearing 24 (with Bobby Jones's permission) and scoring 24 points in a Sixers Victory.
A night that Ari and I will never forget.  Life is truly precious.
And may all of those on that helicopter Rest in Peace.
Have a great weekend. Hello February!
Saturday, 

2/1/20


11:30 a.m. – 1:00 p.m.

Sunday, 2/2/20


11:30 a.m. – 1:00 p.m.



12:00 p.m. – 1:00 p.m.



Dramatic Price Reduction!


Spotlight Property of the Week
351 S 47th Street #B205
PRICE REDUCTION!
OPEN HOUSE: SUNDAY, 12:00 p.m. – 1:00 p.m.
3 Bed | 2.5 Bath | $295,000
The brightest corner 3-bedroom, 2.5 bath with original character. The opportunity to completely renovate and create your own grand, spacious residence. Hardwood floors throughout with original moldings and trim. Huge spaces throughout including the living room and separate (but bright and open) dining room. Two very large bedrooms and big baths. One smaller bedroom. Excellent closets throughout. Half bath. Washer and dryer.
Excellent space, light, and layout. The highlight of this apartment is the large and numerous windows in every room, with both southern and western exposures. Glorious light throughout.
Garden Court is a professionally managed, wonderful building with a spectacular, heated indoor pool, fitness center, club room, and library. Beautifully landscaped grounds & many recent capital improvements. Significant character. Lovely tree-lined block.
Walk to Clark Park and its Farmers' Market, ReAnimator Coffee, Green Line Cafe, Local 44 and Bottle Shop, Pop Shop, Taco Taco Mexican (formerly Honest Tom's), Milk & Honey, Clarkville, Baltimore Avenue's Restaurant Row and more. Also, HUP, CHOP, UPenn, USciences, Drexel. 12 minutes to Rittenhouse Square by car or bike and plenty of convenient SEPTA options.
Now Taking Reservations!
7111 Germantown Avenue
Premiere new construction in the
heart of Mount Airy

7111 Germantown Avenue is a premier, highly sustainable condominium address in the northwest section of Philadelphia, co-developed by award-winning firms Bancroft Green (Scott and G.C. Seibert) and Philly Office Retail (Ken Weinstein). This property is an adaptive reuse of a historic church annex with all new systems and a newly added, beautifully designed 4th floor.
Floor plans are available for all units.
This extraordinary property features 19 distinctive, beautiful residences. All homes feature visually compelling original character and layouts with modern finishes. No layout is the same among the 1, 2 and 3-bedroom residences ranging from $405,000 to $1,200,000. Each unit includes a covered parking space. Delivery is expected during the second quarter of 2020. This much-anticipated project represents high-end and green living under one roof. For more information please visit 7111Germantown.com or contact me at [email protected].
 If you have any interest or questions, please contact me to discuss. Below are Coming Soon listings from the City Block Team. Compass has many other Coming Soon Listings in our area (46 to be exact). If you'd like to see these listings, simply click on this link.
Top Philly Events During the Entire Month of February

Visit Philadelphia has put together a list of the top events happening in Philadelphia in February. From Black History Month exhibits and the Philadelphia Auto Show to Philly Theatre Week and more, there are plenty of activities throughout the city this month. Click here to read the full article. 


Getaway at the Greenhouse
February 1 – 16

From February 1-16, Getaway at the Greenhouse returns to the Fairmount Park Horticulture Center (100 N Horticultural Dr) for its second year. The pop-up will include five different destinations: The Jungle, The Beach, The Midway, The Lawn and The Campground, where there will be fun and activities for all ages. Click here for more information.
Black History Month in Philadelphia 

  February 1 – 29

Major attractions across the city celebrate Black heritage, history and culture throughout the month with special exhibitions, discussions, performances, tours, and more events and programming. There are a lot of activities, all of which are listed here. 
Visit Philly suggests paying a visit to The African American Children's Book Fair at The Community College of Philadelphia. Also, The Brandywine River Museum of Art debuts its special exhibit In Witness to History: Selma Photography of Stephen Somerstein.
Chestnut Hill on Ice
January 31 – February 1


It's a two-day family-friendly festival highlighting Chestnut Hill's historic business district. Expect a pop-up "iceless" skating rink on Saturday, February 1, 12:00 p.m. to 5:00 p.m – 184 E Evergreen Ave (get your $10 tickets here). Then head over to 184 E Evergreen Ave for a really awesome "Ice Bonfire." There are too many activities to list here but highlights include cozy warming stations along Germantown Avenue, wine and Vodka tastings, Chili specials at participating restaurants and S'Mores provided by La Chocolatera Food Truck. More info here.
This Week's Featured Listings
2004 Delancey Street

2-CAR GARAGE

6 Bed | 5 Bath | 2 Half-Bath

$4,195,000

501-503 S 45th Street

2-CAR GARAGE
PRICE REDUCTION

University City
Penn Alexander School Catchment

Purchase both sides
of an adjoining twin
$1,175,000
(Also available separately)

501 S 45th Street

2-CAR GARAGE
PRICE REDUCTION

University City

Penn Alexander School Catchment

5 Bed | 2.5 Bath
$650,000


(This property can be purchased with 503 S 45th Street)


5010 Hazel Avenue

OPEN HOUSES:

SAT & SUN

New construction

with 10-year Tax Abatement

4 Bed | 3.5 Bath
Finished Lower Level

$579,000

503 S 45th Street
NEW PRICE REDUCTION

University City

Penn Alexander School Catchment

6 Bed | 3 Bath

$525,000

(This property can be purchased with 501 S 45th Street)

531 Greenwich Street

OPEN HOUSE: SAT 1:00 – 2:00 p.m.

2 Bed | 2.5 Bath

$375,000

173 W Price Street

OPEN HOUSE: SAT 1:00 – 2:00 p.m.

BRAND NEW CONSTRUCTION

351 S 47th Street #B205

OPEN HOUSE: SUN 12:00 – 1:00 p.m.

PRICE REDUCTION

SPOTLIGHT PROPERTY

3 Bed | 2.5 Bath
$295,000

240 W Penn Street

OPEN HOUSE: SAT 11:30-12:30 p.m.

BRAND NEW CONSTRUCTION

10-YEAR TAX ABATEMENT

3 Bed | 1.5 Bath
$269,500

610 Annin Street

BRAND NEW LISTING
3914 Brandywine Street

2023 Moore Street

1730-32 Seybert Street

2215 Cantrell Street

416 N Saunders Avenue

2004 S Beechwood Street

167 W Abbottsford  Avenue

4610 Springfield Avenue

407 S 43rd Street

408 S 43rd Street

264 S 9th Street

315 New Street #510

528 Montgomery Avenue
| | |
| --- | --- |
| As always, please know that I'm humbled by and appreciative of your introductions and referrals. If you have a friend, colleague, or family member that is in need of expert Real Estate representation, please send them my way. Be assured, I will do my best to exceed their expectations! Thanks for taking the time to read this issue of Around the Block. | |
Some imagery in this e-newsletter was sourced via Visit Philadelphia®.
Pixabay, Canva.com, and pexels.com
© Compass 2020 ¦ All Rights Reserved by Compass ¦ Made in NYC
Compass RE is a licensed real estate broker and abides by Equal Housing Opportunity laws. All material presented herein is intended for informational purposes only. Information is compiled from sources deemed reliable but is subject to errors, omissions, changes in price, condition, sale, or withdrawal without notice. No statement is made as to the accuracy of any description. All measurements and square footages are approximate. This is not intended to solicit property already listed. Nothing herein shall be construed as legal, accounting or other professional advice outside the realm of
real estate brokerage.