This edition of Around the Block was published on Sunday, 4/26/20. The theme this week is about how we can take a huge step to cut down on litter in our city. Plus some random thoughts on Shelter in Place. Send me an email and let me know how you stay positive in uncertain times? I'd love to know. Send me an email: [email protected].
Your weekly dose of all things real estate, listings and more.
by Jeff "City" Block
We celebrate this Earth Day by staying at home
(or Random Thoughts on shelter-in-place)
One thing I have heard a lot since shelter-in-place/work-from-home began is "now is the time to get things done that I have been meaning to work on."
That mantra has changed slightly, or perhaps turned all the way around, to something more like "I am busier and more frazzled than ever," "time to get going on a project soon," "I watched everything on Netflix and Prime, what's on Hulu?," "at least my dog is still enjoying this," "my cat is like WTF," and the big one that is shared by all parents of school-aged kids…"LEARNING AT HOME SUCKS."
So I think it would feel pretty good to do something fast, simple, and straight-forward. Something that will keep on giving to you, the city, and the planet. In the future, perhaps you will look back and say, "This is awesome… I should have done this sooner. So glad I tackled this during COVID-19 WFH." And this ties into earth day too. Let's all do it.
Here it is: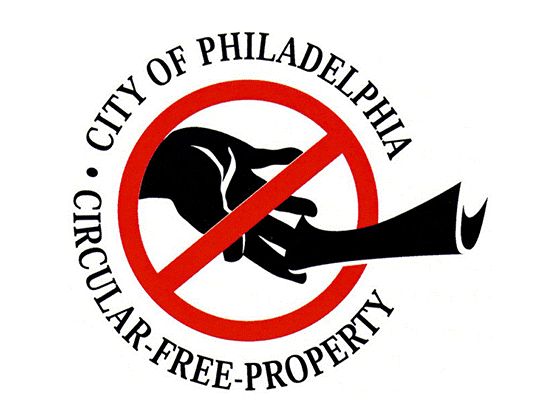 Do you like the circulars that pile up on your doorstep every week? How about when they get wet? What if you pick up yours yet several neighbors don't. Circular litter is never a good look for any neighborhood, and it is bad for the environment. Circulars use up significant resources, cause weekly litter, and while they can be recycled, many people do not—especially if the paper is in a plastic bag, which then must be taken somewhere separate to recycle (the city does not take plastic bags, though some places do; just email me).
Am I correct that most people do not even glance at these circulars anyway? If you are looking for discounts, they are even more up-to-date and comprehensive on the retailer's app. So it would be great for our neighborhoods if tons of residents had Circular-Free Property stickers. Our city needs less trash and this is a major step. An example of how we can all
make a difference.
I had a circular-free sticker on my home in Society Hill, but have apparently been too busy for the past 12 years to order one for my home of 10 years in University City or my current home in Mount Airy. Thanks to C-19 WFH, I just ordered mine last night. The process is simple. Literally takes 5 minutes. Go to this
site
and download the PDF form. Print, fill out your name and address, sign, scan, email. Or, use electronic signature and skip the print. Please contact me with any questions and I will help any way I can. I can even assist with electronic signing if that would make it easier.
You can make a difference in about 5 minutes and it will make you smile every time you see that sticker on your door and no circular litter on your step.
So a few things. If you want to do this and run into a technical or logistics issue, please email me and I will quickly help you get it done. Also, if you do this, please take an additional 10 seconds and reply to this email and just say, "I did it." Finally, be patient. The city is slow under most circumstances and this is certainly not an essential service. But it is important and the city will get to it when it opens back up. Maybe you will have to resend your email (another 30 seconds) once the city has been back for a few weeks to make sure they process it. Or maybe not. Let's get it done. How many fewer circulars will we see in our great city?
Thank you and I hope you are enjoying the two days that are quite similar to the previous five
(a/k/a, the weekend).
| | |
| --- | --- |
| | |
Haven't we all seen the Facebook posts or news blurbs about some random book from decades or centuries ago that included a chapter where there was some great plague in a year with a 20 in it that came from a land with a great wall and we had a leader in power who never won the popular vote?
Dean Koontz, Nostradamus, and self-proclaimed psychic Sylvia Browne all wrote about some random event, which could tangentially be tied to our current crisis. Except, they have all been debunked.
People see what they want to see.
Moreover, statistically speaking, with the number of creative works produced in human history, and many about plagues and pandemics, it is no surprise that several would have some coincidental similarities to the COVID-19 outbreak. 
But totally overlooked are the simple words of a song written in 1972. It may not be literally true, but nothing feels more real than these prescient words written by Alice Cooper—
NBC Nightly News Kids Edition

 

NBC Chief Medical Correspondent Dr. John Torres explains, "What we wanted to do is give them a platform where they could hear some news, that they can trust, that's at their level and make it a little bit of fun too." Sounds good to me. Great content.

Please check it out here.

Spotlight Property of the Week
221 S MELVILLE STREET
Just Listed
4 Bed | 2.5 Bath | $750,000
Beautifully updated 4 bedroom plus office, 2.5 bath home on a neighborly tree-lined block in the Penn Alexander School CATCHMENT. Front yard, covered porch, and beautifully hardscaped rear yard. Stainless and granite kitchen. This home was a gut renovation (all new systems, down to shell) in 2007. Fully updated throughout in 2020, including fully renovated full baths and significant other work and updating as needed. This is an amazing home on a great block in the
Penn Alexander Catchment.
7111 GERMANTOWN AVENUE
On-Site Covered Parking
Full 10-Year Tax Abatement
19 distinctive & dramatic condominium residences with high-end finishes & significant character.
3 Bed | 2 Bath | $379,900
Brand new 2020 Complete Renovation. All new throughout. Gorgeous 3 bedroom 2 full bath home on a tree-lined block in the heart of the red-hot Cedar Park neighborhood. Covered front porch and rear deck and yard!
3 Bed | 1 Bath | $315,000
 Prime Pennsport location! Lovingly maintained 2BR+den, 1Bth w/patio and semi-finished lower level that's nestled on a low traffic block.
This Week's Featured Listings
NEW LISTING

3313 Baring Street

BRAND NEW LISTING

4707 Springfield Avenue

BRAND NEW LISTING

907 Corinthian Avenue

BRAND NEW LISTING

221 S Melville Street

NEW LISTING

4836 Hazel Avenue

BRAND NEW LISTING

64 Good Street

BRAND NEW LISTING

2316 Perot Street

2053 Christian Street, #B

BRAND NEW LISTING

1324 Locust Street, #1123-24

BRAND NEW LISTING

111 S 15th Street, #2112
As always, please know that I'm humbled by and appreciative of your introductions and referrals. If you have a friend, colleague, or family member that is in need of Expert Real Estate Representation, please

have 

them contact me. 

Be assured, I will do my best to exceed their expectations! Thanks for taking the time to read this issue of Around the Block.
© Compass 2020 ¦ All Rights Reserved by Compass ¦ Made in NYC
Compass RE is a licensed real estate broker and abides by Equal Housing Opportunity laws.
All material presented herein is intended for informational purposes only. Information is
compiled from sources deemed reliable but is subject to errors, omissions, changes in price,
condition, sale, or withdrawal without notice. No statement is made as to the accuracy of any
description. All measurements and square footages are approximate. This is not intended to
solicit property already listed. Nothing herein shall be construed as legal, accounting or other
professional advice outside the realm of real estate brokerage.