Happy Holidays. Please note that this newsletter was originally published on 12/20/19. The Eagles Tickets Giveaway Contest has ended and we'll have an update on who won soon.

Volume 18: Issue 54                                                                                                                                                12/20/19                                                                                                                                                                                                                                                            
Your Weekly Dose of Real Estate News, Open Houses, Listings and More — by Jeff "City" Block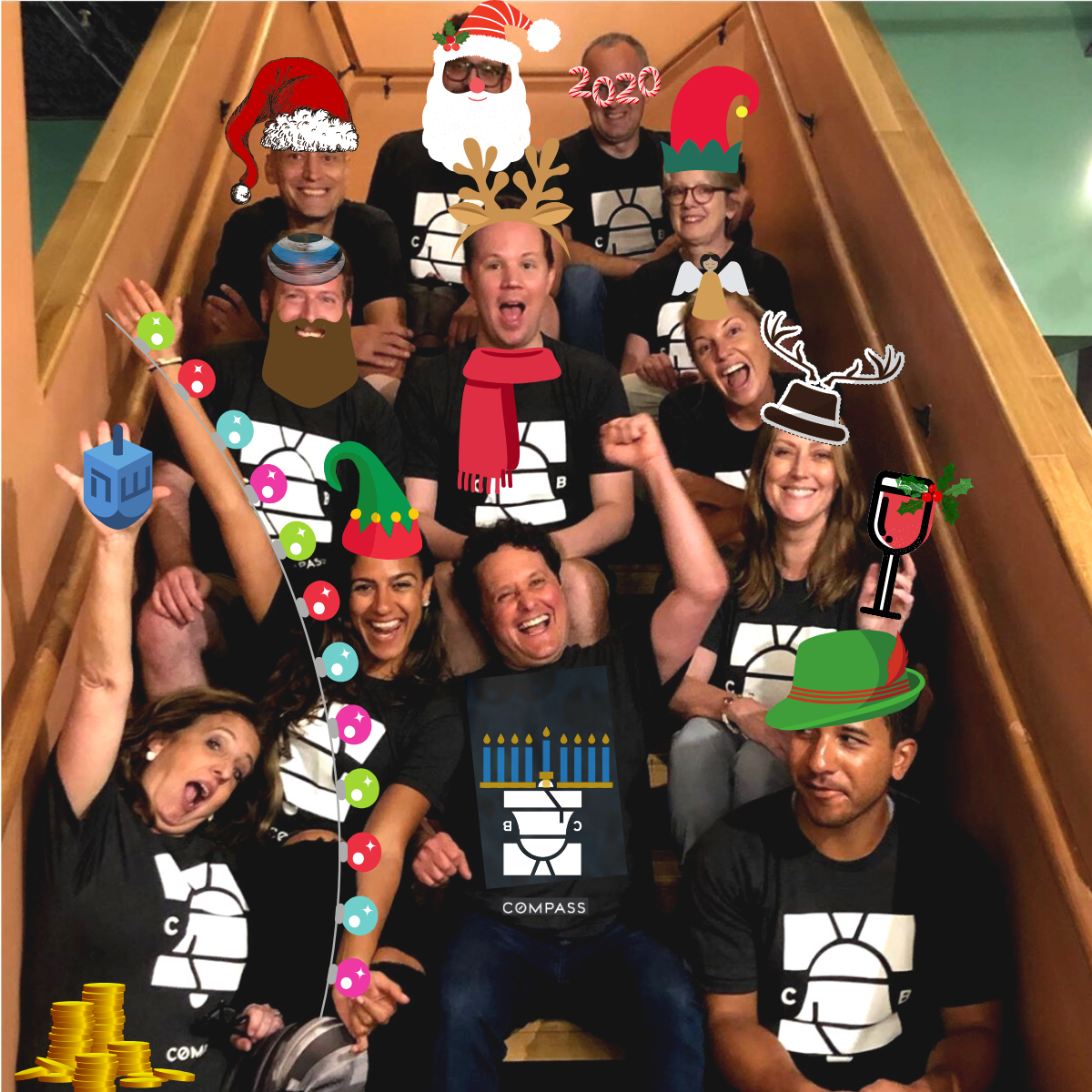 I'm taking a moment to reflect on a big year.
When I am not focusing on my clients and my family, I am working with my team to make sure we continue to provide Expert Real Estate Representation to every client.
By far, one of the best business decisions I made was to create the City Block Team in 2006. There's something really gratifying about growing a team. We can better serve the needs of varied clients, and we have the ability to learn from each other, which inevitably fosters a culture of reciprocity, inclusion, and excellence.
When I started on my Real Estate journey nearly 20 years ago, I had no idea that I would eventually have the opportunity to mentor such amazing people, and to acknowledge, celebrate, and help grow the many talents that each team member brings to the table—and not just the settlement table. Also amazing is how much I learn from my team as well, from both a personal level and a professional standpoint. It makes us all better REALTORS and people.
I
n 2019, the City Block Team sold $80 Million in real estate. I always like to sell a lot of Real Estate, but most importantly, we are committed to providing the best real estate representation and 100% customer satisfaction. Helping our clients meet their goals is what it is all about. I could not be more proud of everyone on CBT. We all worked so hard helping clients and also adopting all of the amazing tools that Compass has rolled out like Coming Soon Listings, Compass Concierge, Bridge Loans, and Collections. All of these tools have enhanced both the client journey and added tremendous value for us agents as well.
This year, I thank CBT's best ever admin staff Greg, Katrina (absent in the picture above), and Jami. And CBT's awesome agents Missy, Melani, Martin, Deannah, Ian, Peter, Kendra, Asher, and Andy. Thanks for crushing it every day!
"Around the Block" will be back in 2020!
And one more thing. See below for ATB's most popular recurring feature–the chance to win free Eagles tickets.
Spotlight Property of the Week
173 West Price Street
Germantown
Brand New Listing
NEW CONSTRUCTION – 10-YEAR TAX ABATEMENT
3 Bed | 2 Bath | Finished Lower Level | 1900 SF
$350,000
Beautiful, contemporary, 3-story home on a quiet block in red-hot Germantown. 93 WalkScore and just one block from Ultimo Coffee. 3 bedrooms plus office/den. 2 full baths. Big rear yard. High-end finishes.
Wide-plank hardwood floors throughout.
Compass has many Coming Soon listings in the Philadelphia area. Click here to see all of the current Compass Coming Soon Listings in

Philadelphia County. 
 If you have any interest or questions, please contact me to discuss. Below are Coming Soon listings from the
City Block Team.
Sunday, 12/22/19. The 1st Night of Hanukkah and the Biggest Eagles Game of the Year (so far that is). My wife always asks how there can be so many "Biggest Games of The Year." My answer? That is the beauty of the National Football League. And that is the beauty of the chance to win FREE EAGLES TICKETS RIGHT NOW!!


One lucky ATB reader will win tickets to this Sunday's NFC East Match-up between the vile Dallas Cowboys and our own Philadelphia Eagles. If the Birds win, they control the Division and just need to beat the lame NY Giants the following week to win the division and host a home playoff game!

The game starts at 4:25 pm (right around sundown to coincide with the start of Hanukkah.

Whether you celebrate or not, City Block Team is providing the 8th person to reply with two seats in Section 125 of the Linc for this Sunday's game!

So Happy Holidays to all and may the Eagles be victorious like the Maccabees about 2,200 years ago.

GO BIRDS!!
Truly South Philly Christmas Experience



Through the Holidays


It's called "Miracle on South 13th Street" and it reflects the electric vibrancy of the neighborhood itself. Decorations range from classic vintage to over-the-top modern styles. If you haven't visited South 13th Street between Tasker and Morris, you're missing a visual treat. Take a stroll after sundown, and you just might bump into St Nick himself. While there, grab dinner on Passyunk Avenue. It's truly a South Philly holiday experience.
Kwanzaa Bonanazaa

at the African American Museum

Thursday, 12/26


 

Kwanzaa is a celebration held in the US and other nations and lasts a week. The celebration honors African heritage and culture and is observed from 12/26 to 1/1. This holiday is based on 7 Principles, which you can find out more about on 12/26 from 2:00 – 5:00 p.m. (701 Arch Street). Expect make-and-take crafts, dance, stilt-walkers, an acapella chorus, storytelling, and more. There's also a Kwanzaa sing-a-long for the kids. 


Details for this free event can be found here.
Festivus in Frankford

Sunday, 12/22/19


It's a tradition at Grey Lodge (6235 Frankford Ave). It kicks off at 4:00 p.m. and goes all night long. They celebrate Festivus the traditional, old fashioned way with all the trimmings including the beautiful unadorned aluminum pole, a meatloaf dinner, and Feats of Strength. There's also an open mic for anyone who wants to air their 2019 grievances. Expect an Ugly Sweater Contest and also live festive music. Need a refresher on the origin and cultural observances of Festivus? Here you go.

Note: This is during the aforementioned "Biggest Game of the Year."
Penn's Landing Fireworks on NYE!

Tuesday, 12/31 


This fireworks show happens twice in one night—once at 6:00 p.m. for the little ones and then again at midnight (for those that stay awake until midnight). Optimal views can be had from anywhere at Penns Landing, including the Race Street Pier, Cherry Street Pier, Independence Seaport Museum, and more. See all of the choices here. Perfect for the entire family, consider partying it up at the Blue Cross RiverRink. Tickets are available here for skaters ($45) and spectators ($35) alike. There will be awesome live entertainment as well as access to the arcade and fire pits.

 
This Week's Featured Listings
2004 Delancey Street

2-Car Garage

6 Bed | 5 Bath | 2 Half-Bath

$4,195,000

264 S 9th Street

Parking
OPEN HOUSE: SUN 1:00 – 2:00 p.m.

4 Bed | 2.5 Bath
$1,395,000

501-503 S 45th Street

NEW LISTING
2-CAR GARAGE

University City
Penn Alexander School Catchment

Purchase both sides
of an adjoining twin
$1,249,000
(Also available separately)

501 S 45th Street

2-CAR GARAGE
NEW LISTING

University City

Penn Alexander School Catchment

5 Bed | 2.5 Bath
$699,000


(This property can be purchased with 503 S 45th Street)


503 S 45th Street

NEW LISTING
Triplex

University City
Penn Alexander School Catchment
6 Bed | 3 Bath

$550,000
(This property can be purchased with 501 S 45th Street)

2024 Spruce Street #6
REDUCED

173 W Price Street

JUST LISTED
BRAND NEW CONSTRUCTION
10-YEAR TAX ABATEMENT
SPOTLIGHT PROPERTY

240 W Penn Street
NEW LISTING

BRAND NEW CONSTRUCTION

10-YEAR TAX ABATEMENT

Germantown 

3 Bed | 1.5 Bath

$269,500

1934 Dudley Street
REDUCED
COMPLETE RENOVATION

2 Bed | 1.5 Bath

Finished Lower Level

$205,000

2401 Pennsylvania Avenue #2A2
REDUCED
109-11 Pine Street  $1,700,000
276 S 23rd Street   $995,000
2138 Catharine Street  $925,000
4530 Locust Street  $775,000
507 S 45th Street   $749,900
2108 Carpenter Street   $640,000
1665 Conklin Street   $ 175,000
| | |
| --- | --- |
| As always, please know that I'm humbled by and appreciative of your introductions and referrals. If you have a friend, colleague, or family member that is in need of expert Real Estate representation, please send them my way. Be assured, I will do my best to exceed their expectations! Thanks for taking the time to read this issue of Around the Block. | |
Some imagery in this e-newsletter was sourced via Visit Philadelphia®.
Pixabay, Canva.com, and pexels.com
© Compass 2019 ¦ All Rights Reserved by Compass ¦ Made in NYC
Compass RE is a licensed real estate broker and abides by Equal Housing Opportunity laws. All material presented herein is intended for informational purposes only. Information is compiled from sources deemed reliable but is subject to errors, omissions, changes in price, condition, sale, or withdrawal without notice. No statement is made as to the accuracy of any description. All measurements and square footages are approximate. This is not intended to solicit property already listed. Nothing herein shall be construed as legal, accounting or other professional advice outside the realm of
real estate brokerage.